Skin Temperature Screening—Setting Up Self-Service or Monitored Stations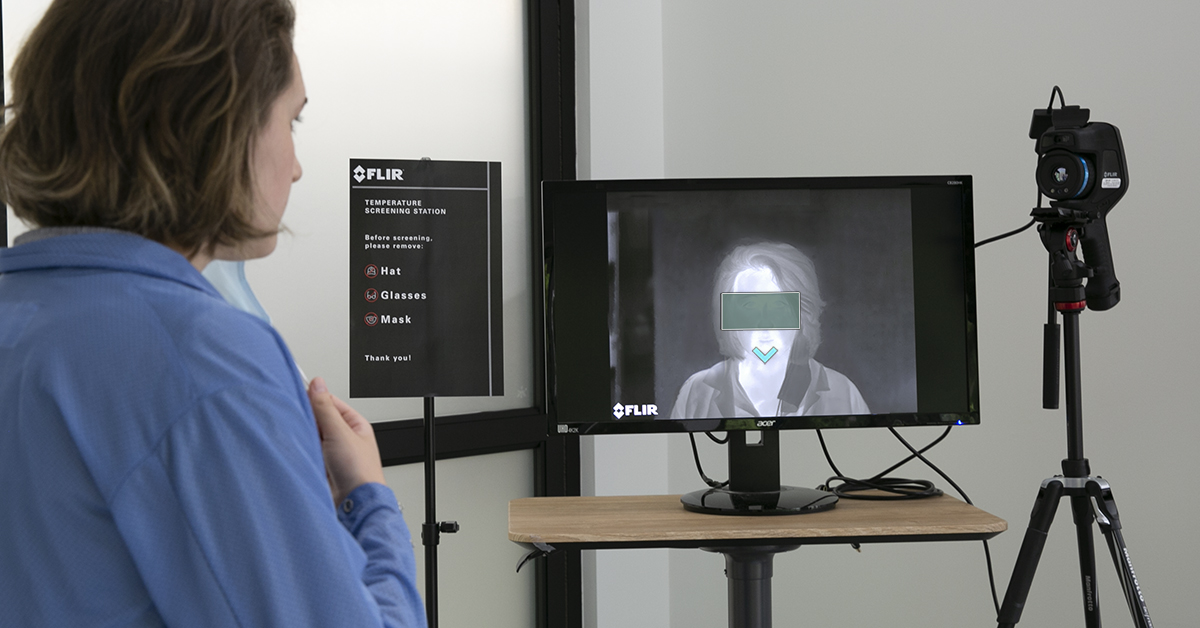 An important element of any skin temperature screening program is the actual set up of the screening station. Unfortunately, it's not as simple as buying a camera and activating screening mode. Having the right tools, screening location, and workflow will help you get the most accurate temperature readings for every individual you screen.
While every business and building can have unique features and needs, there are some basic tenants to follow for any screening station. First, look at this example for setting up an efficient skin temperature screening station.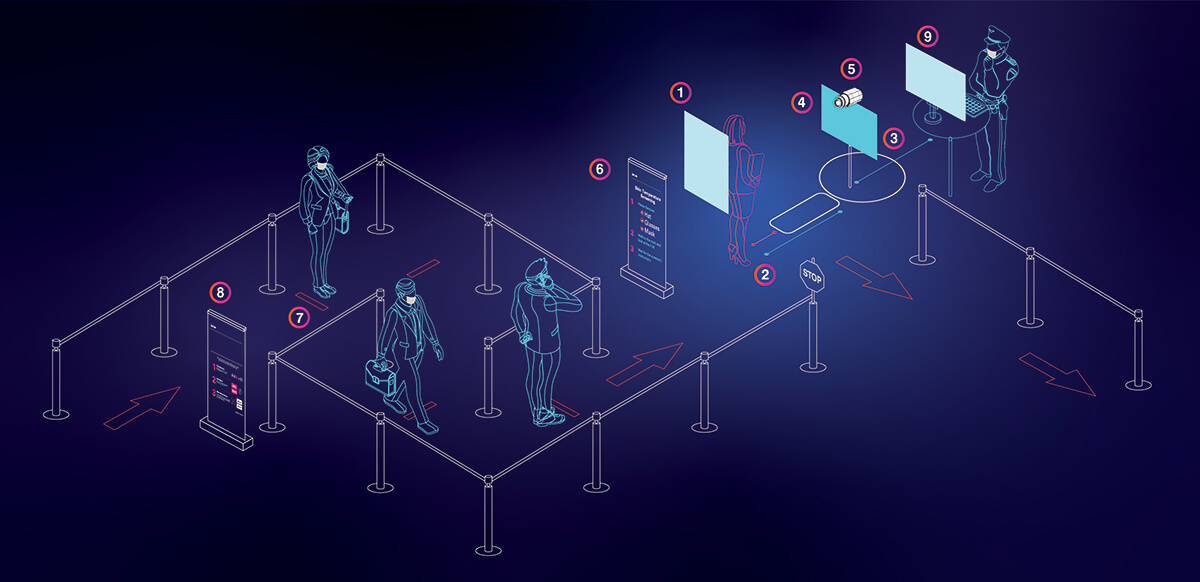 Key—1. Screening backdrop; 2. Placement floor sticker; 3. Table for camera setup; 4. Monitor facing user; 5. IR camera; 6. Screening instructions; 7. Queue indicator; 8. Screening information; 9. Operator's monitor
Helpful signage, direction arrows, and queue indicators all ensure the people who need to be screened can line up in an orderly, socially-distanced fashion. Note, too, the backdrop behind the individual being screened (1). Any kind of non-reflective, light colored divider or curtain will provide an appropriate background for the subject. FLIR offers a screening station backdrop and floor stickers as a kit or as individual accessories for purchase. You can find out more here.
Screening Location
Where you choose to set up a screening station can have a significant impact. Here are some tips to improve screening efficacy:
Set up the station indoors where room temperatures can be maintained at 20°C to 24°C (68°F to 76°F) and relative humidity between 10% and 50%.
Avoid areas where there is a lot of air movement (e.g. HVAC vent), direct sunlight, or a heat source.
Avoid reflective backgrounds such as windows and metallic surfaces.
Choose an area with enough space for appropriate distancing between: people in the screening queue, the individual being screened and the camera, and the camera and the screening operator.
If screening must take place outdoors, use a tent or shielding structure to minimize the environmental impact on the individuals being screened.
Screening Workflow
Guidance from governing and regulatory agencies on screening workflows include the following recommendations:
Screen people one at a time.
Allow people to stabilize their temperature if it was raised by exercise or strenuous physical activity.
Instruct people wearing glasses and/or a face mask to remove them before screening.
Position the individual at a fixed distance from the camera, facing it directly with their entire face in the image area.
Offer secondary screening with a medical device designed to measure body temperature (i.e. a thermometer) for anyone who displays an elevated skin temperature.